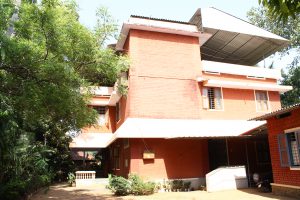 Sisters of St. John the Baptist
Vadavathoor P.O. Njarackal,
Kottayam – 686 010,
Kerala, India.
Email:paripalanacsjb@gmail.com
Telephone: 0091 / 4812578065
The Spirit of Blessed Alfonso Maria Fusco inspired Mother Immaculate and the General Council to respond to the neediest people of Southern Kerala, especially for their spiritual, social and cultural development. Trusting in Divine Providence on June 24th 1989 a community was opened in St. Mary's Parish, Vadavathoor in the diocese of Vijayapuram with three sisters and two novices under the guidance of Sr. Lucy Kallarackal for catechetical work. Sisters stayed in a temporary abode in the church compound for a few months. On March 19th 1990 by the grace of God the new house was blessed. It was named 'Paripalana Bhavan' in fidelity to initial inspiration.
Sisters engage in teaching in the parish school, Pastoral ministry especially by guiding pious associations, teaching catechism, visiting houses of parishioners and others to build good relationship with the people, support the poor with sponsorship programme and also involve in prison ministry. a tailoring centre for women was also started along with some programs to value the womanhood. A small Nursery school for the children was opened in 1990. Sisters are happy working in the vineyard of the Lord through this mission. Praise be to God!