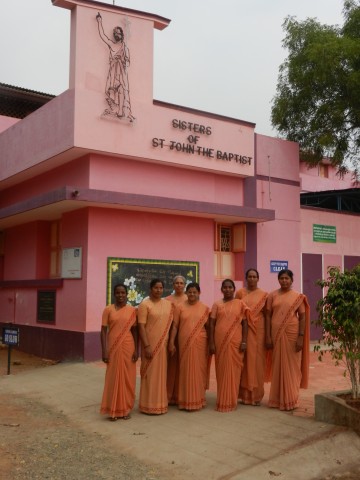 Sisters of St.John the Baptist,
Vadipatti Main Road,
Madurai, 625218,
Tamilnadu, India.
Email:hillarulagam@gmail.com
Telephone: 0091 / 4543254339
Rev. Mother Immaculate Vicidomini and the General Council opened Arulagam community at Vadipatti on June 2nd 1986. It was blessed by Arch Bishop Kasmir Gnanadhikam. It was started for the formation of Aspirants & Postulants. Under the leadership of Sr. Lucy Kallarackal 6 sisters worked to carry out the mission of our Congregation through 'Evangelization and Human promotion' activities. They visited many villages giving awareness about health, hygiene, formal & informal education and teaching them the value of life. A small dispensary was started on 16-06-1986. Sisters actively participate in parish ministry, specially forming the Youth through counseling.
A Nursery school was started on June 6th 1988. According to the signs of the time and the need of the locality, the nursery school was upgraded into primary school. After a few years the primary school spread its wings as a Matriculation School, children studying K.G through 10th std. Thanks be to God!