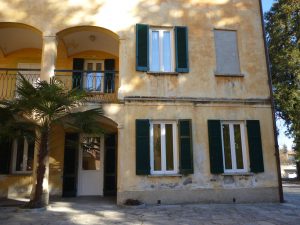 Sisters of St. John the Baptist,
Cocquio, Trevisago,
Milan, Italy.
Email: villacaputo2015@gmail.com
Cellphone: 0039 / 3669759868
The Provincial Sr. Mary Antony and her council desired to open one more house in Milan, Italy, to render nursing and medical care to the intellectually challenged and physically handicapped in collaboration with Sacra Famiglia Institute, Milan, Italy. In January 2015 the General Councilor Sr. Teresina Kunnath accompanied three sisters – Sr. Saly Njerinjampilly, Sr. Soly Vadakkumpadan and Sr. Sini Thomas to Cocquio, Milan to start this mission. The contract was signed with Sacra Famiglia Institute on 10th March, 2015 as they joined as staff of the Institute. On June 29th 2015 the community was officially inaugurated by Bishop Most Rev. Dr. Franco Agnesi, in the presence of Mother General Sr. Rosaria, Councilor Sr. Teresina Kunnath, General Economer Sr. Lucy Kallarackal, Provincial Sr. Mary Antony, the President of Sacra Famiglia Institute Mons. Vincenzo Barbante, other sisters from Intra, Stresa, Staff, inmates and friends.
Besides the mission in this Institute, sisters take care of the religious activities and parish ministry. They participate in the outings of the inmates, arranged by the corporation and accompany them whenever they are invited for any spiritual activities outside Sacra Famiglia Institute. Under the leadership of Sr. Saly Njerinjampilly, sisters work with joy and enthusiasm. Indian Province is ever grateful to Sr. Rosaria and the General Council for taking all the efforts to make this community a reality and all the Indian sisters for their prayerful accompaniment. Thanks be to God!