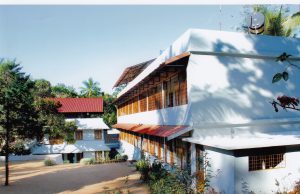 Sisters of St. John the Baptist
Cheeral P.O, Pazhoor,
Sultan Bathery,
Wayanadu Dist, 673 595,
Kerala, India.
Email: thejasbathery@rediffmail.com
Telephone: 0091 / 4936262168
Deeply moved by the spirit of Blessed Alphonso Maria Fusco Sr. Teresina Kunnath and the Council started a community at Pazhoor, Sultan Bathery, Wayanadu District, Kerala on 17th May 1995. Sr. Anice Aikkaramattam and Sr. Valsamma Pandiammackal were the pioneers who arrived to spend their life for the most marginalized people of the locality. Two weeks they stayed with the Holy Spirit sisters at Poomala. Then they rented a small house as two more sisters joined them. The sisters took up the mission of teaching in the diocesan school and social welfare animation programs among tribals (indigenous people) in collaboration with the diocese of Bathery. In 1997 they purchased one acre land and a small house at Pazhoor, where they continued the apostolate. The house was named 'THEJAS' after the Transfiguration of our Lord to manifest the glory of God through our life and service.
In the same year in the month of August, five tribal children – orphans were welcomed to the small house to share the love and service of the sisters. After the arrival of these children and after a detailed study of the signs of the time, the community was inspired to start a house for the destitute tribal girls children to deliver them from child labor, child abuse and to make their life dignified and happy with education. In the year 1998 officially this tribal home was opened and thirteen more children were welcomed. In 1999 the convent building was constructed which was shared by sisters and children. As the number of children increased, in the year 2004 a new house was constructed for the children.
In 2002 a Nursery was started for KG children. The community continues with taking care of tribal children, teaching, Parish Ministry and social welfare activities.Thanks be to God.