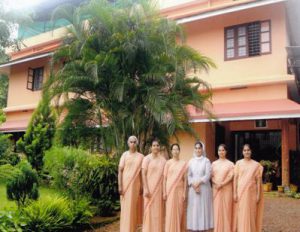 Sisters of St. John the Baptist,
Pooparamba P.O.
Kannur Dist- 670632, Kerala, India.
Email: mariafusco@rediffmail.com
            fuscoschoolpooparamba@rediffmail.com
Telephone:0091 / 4602212790
Vice Provincial Sr. Lucy Kallarackal and the Council focused to start a community at Pooparamba, Kannur District – Kerala on May 8th 1999. Under the animation of Sr. Annu Nellissery the superior, Sr. Teresina Kunnath, Sr. Annie Arampadathil and Sr. Lilly John concentrated on the mission of education, parish ministry, formation of candidates and vocation Promotion. Sisters stayed in a rented house with much joy and enthusiasm, entrusting everything to the loving protection and guidance of God the Almighty and the living presence of Blessed Founder Alphonso Maria Fusco! After a year sisters were blessed with a new house.
On June 5th 1999 an English medium school was opened in this village with 60 children. Upgrading a class each year, the school has grown to a Senior Secondary School having 850 students in the roll. The good news is that the local church was named after Blessed Alphonso Maria Fusco, our beloved Founder. In 2013 the Church was erected as a Parish Church for Pooparmba by Thalassery Bishop. It is breath taking and thrilling experience to witness to the parish feast and the procession thereafter every year. During the Feast, irrespective of caste, creed and religion people gather in the church to venerate and get graces from Blessed Alphonso Maria Fusco as He has already performed many miracles in the lives of many in this parish. Praise be to God!